Digital Desk, Dubai. Chennai Super Kings defeated Delhi Capitals by 4 wickets in the first qualifier match played at Dubai International Cricket Stadium. With this win, Dhoni Brigade has entered the final of IPL 2021. Chennai achieved the target of 173 runs from Delhi with two balls to spare. In the last over of Tom Curran, Dhoni gave his team victory by hitting three consecutive fours. Rituraj Gaikwad scored 70 and Robin Uthappa scored 63 runs. Tom Karan took three wickets in the bowling for Delhi. Earlier, opting to bat after losing the toss, Delhi Capitals scored 172 runs for the loss of 5 wickets on the basis of 60 runs by Prithvi Shaw and 51 runs by captain Rishabh Pant. Josh Hazlewood took 2 wickets for Chennai in the bowling. Delhi Capitals have yet another chance to reach the final and will take on the team that wins the Eliminator in Qualifier 2 on October 13.
Moeen Ali out, Chennai need 13 runs in last 5 balls, CSK-160/6
Dhoni and Moeen Ali at the crease, Chennai need 13 runs in the last 6 balls, CSK-160/5(19 overs)
Gaikwad out, a big blow to Chennai, Chennai need 24 runs in the last 11 balls to win, CSK-149/5
Match in a thrilling turn, Chennai need 24 runs in last 12 balls, CSK-149/4(18 overs)
Gaikwad hit a four in the over of Avesh Khan, Chennai needed 35 runs in the last 18 balls, CSK-138/4(17 overs)
Moeen hits a four in Norkhia's over, Chennai needs 44 runs in the last 24 balls to win, CSK-129/4(16 overs)
Chennai need 52 runs in last 30 balls, CSK-121/4(15 overs)
Rayudu run-out, this third blow to Chennai in the last two overs, CSK-119/4
Shardul out after Uthappa, Tom Karan gave two blows to Chennai in the same over, CSK-117/3 after 14 overs
Uthappa hit Ashwin for two fours, CSK-111/1 after 13 overs
Gaikwad hit Axar for a six and a four, CSK-99/1 after 12 overs
Just 5 runs from Rabada's over, CSK-94/1 after 11 overs
Uthappa hits half-century, CSK-81/1 after 10 overs
7 runs from Ashwin's over, CSK-75/1 after 9 overs
4 runs from Tom Curran's over, CSK-68/1 after 8 overs
5 runs from Akshar's over, CSK-64/1 after 7 overs
Powerplay ends, vintage Uthappa seen in the field, Chennai touches 50 figures, CSK-59/1(6 overs)
5 runs from Akshar's over, CSK-39/1 after 5 overs
Gaikwad welcomes Rabada with a six, CSK-34/1 after 4 overs
4 runs from Norkhia's over, CSK-20/1 after 3 overs
CSK-16/1 after 2 overs came off Uthappa's bat
Du Plessis out, Norkhia gives a blow to Chennai in the very first over, CSK-8/1 after 1 over
Chase begins, Gaikwad and Du Plessis at the crease, ball in the hands of Norkhia
Chennai's target of 173 runs, DC-172/5
Hetmyer out, Bravo gives Chennai fifth blow, DC-164/5 after 19 overs
Great batting by Pant-Hetmyer, 12 runs removed from Hazlewood's over, DC-154/4 after 18 overs
Pant got a four in Bravo's over, DC-141/4 after 17 overs
Pant hits Shardul for a six, DC-128/4 after 16 overs
Last 30 balls left in Delhi's innings, DC-114/4 after 15 overs
Hetmyer hits Moeen for a four, DC-107/4 after 14 overs
6 runs from Deepak Chahar's over, DC-96/4 after 13 overs
Shaw out, Moeen Ali gave a big blow to Delhi, DC-90/4 after 12 overs
after 11 overs DC-83/4
Axar Patel out, Moin gives Delhi the third blow, DC-79/3 after 10 overs
Prithvi Shaw hits half-century (52 runs, 28 balls), DC-74/2 after 9 overs
4 runs from Moeen Ali's over, DC-64/2 after 8 overs
Axar hits Jadeja for a four, DC-60/2 after 7 overs
Powerplay ends, 51 runs for the loss of two important wickets, DC-51/2(6 overs)
Shreyas out, Hazlewood gives second blow to Delhi, DC-51/2
Prithvi Shaw welcomes Shardul with a six, Delhi touches 50, DC-50/1 after 5 overs
First blow to Delhi, Shikhar Dhawan out, DC-36/0 after 4 overs
Pic-Credit- Twitter/IPL
Josh Hazlewood got Shikhar Dhawan caught behind the wicket by Mahendra Singh Dhoni. Dhawan scored 7 runs off 7 balls with a four.
Shaw adopted an aggressive attitude, Deepak hit 4 fours, DC-32/0 after 3 overs
Prithvi's first six of the innings came off the bat, DC-15/0 after 2 overs
3 runs from Deepak Chahar's over, DC-3/0 after 1 over
Qualifier 1 starts, Shikhar Dhawan and Prithvi Shaw at the crease, Deepak Chahar's ball in the hands
Dhoni wins 150th toss in IPL
In the big match, Chennai Super Kings captain Mahendra Singh Dhoni decided to bowl after winning the toss.
Teams:
A look at the Playing XI for #Qualifier1

Live – https://t.co/38XLwtuZDX #VIVOIPL pic.twitter.com/T2PgpXC80y

— IndianPremierLeague (@IPL) October 10, 2021
Delhi Capitals (Playing XI): Shikhar Dhawan, Prithvi Shaw, Rishabh Pant (w/c), Shreyas Iyer, Shimron Hetmyer, Tom Curran, Axar Patel, Ravichandran Ashwin, Kagiso Rabada, Avesh Khan, Enrique Nortje
Chennai Super Kings (Playing XI): Ruturaj Gaikwad, Faf du Plessis, Moeen Ali, Robin Uthappa, Ambati Rayudu, MS Dhoni (w/c), Ravindra Jadeja, Dwayne Bravo, Shardul Thakur, Deepak Chahar, Josh Hazlewood
#CSK have won the toss and they will bowl first against #DelhiCapitals in #Qualifier1

Live – https://t.co/38XLwtuZDX #VIVOIPL pic.twitter.com/GmQXfdAXFY

— IndianPremierLeague (@IPL) October 10, 2021
हम गेंदबाजी करेंगे। हमने अब तक जो भी मैच खेले हैं, लोगों को लगा कि शुरुआत में तेज गेंदबाजों को थोड़ी मदद मिली, यह एक कठिन विकेट है, लेकिन बाद में यह बेहतर हो सकता है। हम किसी भी खेल के बावजूद इसे सरल रखने की कोशिश करते हैं। हम अपनी कमियों का विश्लेषण करते हैं और इससे हमें मदद मिली है। हम वही ग्यारह खेल रहे हैं।-एमएस धोनी, सीएसके कप्तान  

We are fine with the toss, but we also have to bowl first. A little nervous, but it's part of the game. One change for us – Tom Curran will replace Ripple Patel. When you win the game, the confidence level is high, but we will not take the match lightly.Rishabh Pant, DC Captain
Guru and disciple teams will face each other to make it to the final
Forget what happened till now, what will happen in this week will be recorded in the pages of history. The final phase of IPL has started from today where the young fighters of Delhi will take on the experienced warriors of Chennai. This means that this week we will get the winner of Season-14. Now the big question is will we get a new IPL champion this time?
If the figures are to be believed, then Chennai has the upper hand.
Delhi finished this season on top of the league stage while Chennai Super Kings finished second, but the one who wins today will directly qualify for the final while the losing team will be given another chance to enter the final.
Talking about this season, Delhi has beaten Chennai in both the league games. But the team of Delhi Capitals and Chennai Super Kings have faced each other 25 times in IPL so far. During this, Dhoni's team has defeated Delhi 15 times, while Delhi has won 10 matches. That is, if we talk about the overall record, then Chennai has the upper hand in this match. Chennai has a lot of experience of playing in the playoffs and has been through to make it to the last four only once in IPL history.
This is also New Delhi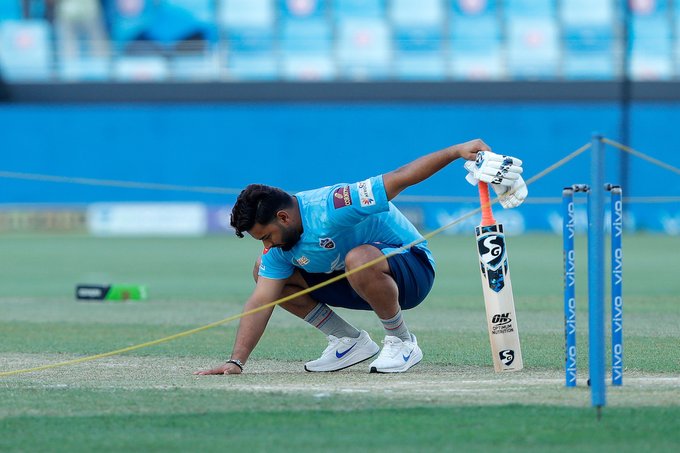 Pic-Credit- Twitter/IPL
Delhi Capitals, who traveled till the final last year, impressed everyone with their performance this time and the team is now being considered as a strong contender. The biggest hand behind the success of Delhi is the bowlers who destroyed the best batting order on the basis of their strong performance.